ABOUT
Registration for Fish Camp 2018 will open May 21st, 2018! Stay tuned for more updates.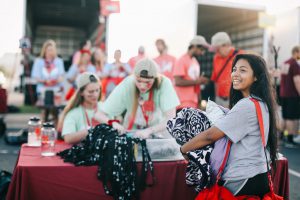 Fish Camp welcomes the Freshman class to Texas A&M each year by giving them the opportunity to have fun, make friends, and learn more about Texas A&M. We hope that through Fish Camp, you will begin finding your place in the Aggie Family before classes even begin!
Fish Camp is a 4-day extended orientation program that takes place at Lakeview Methodist Conference Center in Palestine, Texas. Students ride buses from the Texas A&M campus to Lakeview, where they stay in air-conditioned, furnished cabins.
Fish Camp is led by A&M students who are passionate about making the first year of college a success for freshmen! Every counselor has valuable personal experience, so they can offer advice about classes, College Station, and anything else you need as you begin your journey as an Aggie!
What do you do at Fish Camp?
Freshmen are split into large "camp" groups of approximately 120 students and 24 upperclassmen counselors. Your camp will share a special bond as you spend time getting to know one another, attending programs that highlight the opportunities and services available on campus and participating in Aggie Traditions such as Yell Practice, Aggie Muster, and Silver Taps.
Each camp is divided into Discussion Groups of 10-15 freshmen and 2 counselors. These Discussion Groups, or DGs, are a place where many Aggies meet some of their best college friends. In addition to meeting friends, DG time will also provide you with opportunities to ask any questions you may have about life at Texas A&M.
Each night, you can go to a themed mixer if you like to dance, or to the Aquarium, where you can play video and board games, watch movies, play pool, and socialize with upperclassmen and other freshmen. Both options are a great opportunity to get to know your new Aggie friends!
Why should I go to Fish Camp?
"Awesome and eye opening! Really showed us how to be accepting and caring towards our aggie family."
– Freshman, Class of '18
"We are all here to get an education and to establish friendships that will last a lifetime."
– Freshman, Class of '18
"I felt like I could open up to my counselors about certain things and it really showed that we all have different backgrounds while emphasizing that we are all part of the aggie family."
– Freshman, Class of '18
"I was given many opportunities to learn about traditions and meet new people."
– Freshman, Class of '18
"I was amazed at the honest diversity of A&M. There is so much to learn, so many different stories and yet, we are all a family."
– Freshman, Class of '18
"I got a closer knit group of people from my DG that can be a viable resource for the future."
– Freshman, Class of '18
"It was the perfect experience and it made me feel 100% ready for college at TAMU. The counselors were the kindest, most passionate people and really worked to serve us as best as they could."
– Freshman, Class of '18
"I was so nervous going into A&M without knowing anyone but now I have a strong support group that I know will be there for me as I transition to this new life."
– Freshman, Class of '18
How do I sign up?
Registration will open on May 21st 2018. For additional information or questions, please call the Fish Camp office at (979) 845-1627 or email us at fcamp-ir@dsa.tamu.edu.