The Fish Camp 2020 Counselor Selections are now closed!
Please direct questions to fcamp-ms@dsa.tamu.edu
 Please check https://maroonlink.tamu.edu/organization/fishcamp for the application
Counselor Applications were due on Friday, January 24th at 11:59 PM.
Every year, since 1954, Fish Camp welcomes the incoming Freshman Class to Texas A&M with a 4-day, 3-night extended orientation program at a conference center in Palestine, Texas. Each year over 1000 Counselors and Crew Members dedicate their time and energy for six months to help welcome the Freshmen Class to Texas A&M!
What does a Fish Camp counselor do?
The primary role of a camp counselor is to serve as a support system for freshmen and help them transition into college life.  They lead a group of 10-15 freshmen called a Discussion Group and maintain connections with them throughout their first year and beyond! Counselors also perform informative and purposeful skits for the freshmen to help them better understand college life, A&M traditions, & campus services. Camp counselors must attend mandatory trainings throughout the spring semester and summer on topics such as working with a partner, how to facilitate small groups, and how to grow as a camp. In addition, counselors are expected to attend mandatory continuity events after camp in order to further relationships with the freshmen.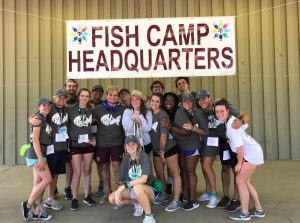 What does a Crew counselor do?
Getting the opportunity to be a Fish Camp Crew counselor allows for a very unique Fish Camp experience. From getting to influence thousands of freshmen while you're at your three and a half sessions of camp to working closely with Director Staff and facilitating the "behind the scenes" and logistics of Fish Camp. Crew counselors are split up into two different session groups, and like Camp counselors, they also get partners. At camp, Crew gets to be involved with helping out Namesakes, working closely with our sponsor, the Class of 1969, as well as special guests like the Yell Leaders. Fish Camp Crew puts on the camp mixers as well as some special presentations including Muster and Silver Taps presentations. Fish Camp Crew gets a bird's eye view of the entire organization and the impact that it has on the incoming Freshmen Class.
A few 2014 counselors share their insights on the application process and being a Fish Camp counselor!
"Being a Fish Camp counselor has allowed me to give back to the campus I love, develop into a confident student leader, and make friendships with my freshmen and fellow counselors that enrich my Aggie experience." – Marissa Gregurek

"Even if you did not go to camp as a freshmen, or people do not expect you to apply for Fish Camp, YOU have what it takes to be a Fish Camp Counselor. All you need is a desire to reach out and help the incoming class. Reach out to any of your peers or past members of Fish Camp for help on the application. If you decide to apply, you will have taken the first step on a fun and crazy ride that you will never forget."- Jeffrey Taliaferro
"Being a fish camp counselor changed my life because it put myself in a role to personally impact the freshmen not only through camp, but in my actions. I hope my faith reflects through my personality and encourages others to continue their faith through college." – Blaine Mikulik
"As a counselor, I really enjoyed seeing the impact I made on the freshmen. I loved seeing the freshmen grow and become a part of the Aggie family. I encourage everyone to apply, it's an experience that will change your life!" – Aaron Garcia

"My favorite part of being a counselor was seeing the hard work we put in before camp payoff when you get to Lakeview and the excitement and impact you make on the freshman class and even after camp is over those relationships that were made carry on and develop even further." – Thomas Human
"The thing that I loved most about being a counselor was getting to directly affect someone else's outlook of college and therefore making an impact on the legacy of our university.  By accepting incoming freshmen into the Aggie family with open arms, we make sure that A&M stays just that a family." – Amanda Henry

"Being a counselor is about finding your own unique way to make a profound impact on people, while being a part of a organization where you can continue grow and foster as an individual." – Matt Zauber
"As a Fish Camp counselor, my leadership skills developed in ways I never thought imaginable and I was able to make a huge impact on the incoming freshmen class at A&M. Watching the freshmen grow from day one, and knowing that you played a large role in their growth, is an amazing feeling and a truly rewarding experience. I really encourage everyone to apply!!" – Amanda Hickman