Fish Camp Staff 2020
2020 Fish Camp Director Staff
Directors are current students who have previously been chairpersons of a camp.  These individuals work closely with advisers on the logistics of Fish Camp to make sure that each component of Fish Camp is achieved effectively and efficiently.  The 9 Directors of Fish Camp 2020 have a great passion for the organization and want to continue helping Fish Camp grow as an organization.  Directors are key players in the decisions that are made within this organization.  These individuals manage the largest student-run extended orientation program in the nation and give a year of their college experience to welcome the incoming class.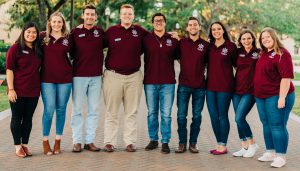 Director Staff 2020
Ryan Brown – Head Director
Jennifer O'Neil – Director of Public Relations
Kourtnei Fong-Kutchins – Director of Membership
Jace Garrett – Director of Staff Development
Alexandria Cathey – Director of Internal Relations
Kyle Barton- Director of Finance
Elizabeth Allcorn – Director of Operations
Tomas Dunham – Director of Risk Mitigation
Claire Davis – Director of External Relations
2020 Fish Camp Chairperson
Chairperson applications have officially closed for Fish Camp 2020!
Each camp at Fish Camp has a Chairperson partnership that works closely with Director Staff to train the 24 counselors in their specific camp.  Chairpersons train, manage and facilitate their camp in all activities throughout the spring semester, summer leading up to Lakeview, and the fall semester that follows.  Each Chairperson has been a Fish Camp counselor and has shown a great passion for helping aid in the freshmen's transition into Texas A&M University and college life. Chairpersons also work with the namesakes that their camps are named after and help them become an active part of the camp and prepared for their time at Lakeview. At Camp, these individuals work behind the scenes and make sure that all activities at camp run smoothly in each camp room.